We are thrilled to be listed in in County Lines Magazine's 12th annual Best of the Best issue for January 2016. County Lines Magazine is the region's oldest magazine, focusing on Chester County and it's neighbors, Montgomery, Berks, Lancaster, New Castle and Delaware counties. Whether you're new to the area or have lived here your whole life, each issue of County Lines Magazine is sure to feature something interesting in Chester County that you have never heard of before. The excerpt regarding Dixie Picnic is below. To see the rest of the Best of the Best winners, visit their website at countylinesmagazine.com.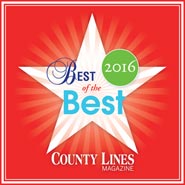 Best Comfort Food
Dixie Picnic
215 Lancaster Ave., Malvern
484-320-8024 / DixiePicnic.com
Southern hospitality marries scratch cooking at this eat-in or take-to-a-picnic casual breakfast and lunch favorite in Malvern. Tracey Deschaine and her staff make everyone feel like a regular while serving up generous helpings of dishes from Deschaine's Virginia childhood. French toast a l'orange, southern sticky bun French toast, and the My Oh My! omelet top the list of breakfast bests. For lunch, get a box lunch (sandwich, side, deviled egg and upcake). The Thanksgiving sandwich, nutty chicken salad and Georgia BBQ smoked pork elicit raves and nostalgia. And "upcakes" upside down cupcakes iced all over for maximum satisfaction. Well now, there's a picnic in every bite.