Earn rewards for eating the food you love.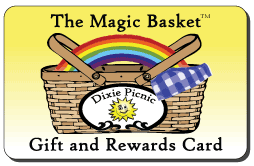 What is the Magic Basket Card?
The Magic Basket Card is our way of saying thank you. We realize that there are many places for you to eat, and we are so thrilled that you choose us that we reckon you should be rewarded.
How does the Magic Basket Card work?
For each dollar you spend, you earn a point. When you reach 100 points, your basket refills like magic with $10 to spend on your next visit. You don't have to keep track of anything; the card knows how many points you have and if you've got rewards to redeem.
How do I get a Magic Basket Card?
You can sign up for a Magic Basket Card on your next visit, or you can sign up online right now! When you sign up we'll ask you for just a little bit of information including your name, phone number, email address, and birthday, then you're all set. We only use the information to look up your account when you forget your card, and to send you special offers. We never sell your information to anyone else.
How do I look up my points/rewards balance?
When you sign up for a Magic Basket Card using your email address or your text-message-capable phone number, you will receive a link to look up your balance at any time. We recommend bookmarking this link for future use. In case you haven't saved that link, you can go to this page to have that link sent to your email or phone again. You can also ask about your balance any time you come into the restaurant, or you can call us to find out.
Ya'll said something about special offers?
That's right. You will receive a free meal when you come in during the month of your birthday (up to 10 dollars). We also have a whole lot of other offers that can be added to the card in the future. We keep your email address on file so that we can let you know about them when they're added.
Magic Basket Card Terms and Conditions:
Points are earned at the rate of 1 point per dollar spent on food, beverages, and retail items. Each order subtotal is rounded down to the nearest dollar for the purpose of calculating points earned. Maximum of 200 points per transaction and 200 points per day. Points are not earned for the purchase of gift cards, service fees, shipping fees, or taxes. Reward money cannot be used for the purchase of gift cards, service fees, shipping fees, or taxes.
Birthday discounts can only be earned once per year per card. The birthday discount will be applied to your lunch on your first visit in the month of your birthday. The birthday discount is valid for food and beverages up to $10 and must be used in a single visit. Any unused birthday discount is forfeited.
Reward points will be tracked once the card is activated, but member profile information must be completed before rewards can be issued or redeemed.
Dixie Picnic stores personal information solely for the purpose of looking up account information and occasionally emailing special offers. Your phone number, first name, and last name are used to look up your account in the event that you forget your card. In rare instances we may use your phone number to contact you only in regards to issues that may have arisen with your order or the service you received. Your email address is used to send special offers that you receive as a Magic Basket Rewards member; for example, each loyalty member receives a free lunch in their birth month.